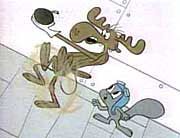 I just received an e from the Rocky & Bullwinkle campaign. Excerpts:

"Please join John Kerry, John Edwards, Teresa Heinz Kerry, and Elizabeth Edwards when they visit Pennsylvania for two exciting rallies as part of their Believe in America Tour this Friday, July 30 in Scranton and Harrisburg.

Come help us welcome the Kerry and Edwards families to Pennsylvania in their first appearances after the Democratic National Convention, and hear the next president and vice president of the United States outline their vision for a better America.

Scranton Rally, Lackawanna County Courthouse, 200 N. Washington Street, Scranton, PA. Gates open at 11:30 a.m. Tickets are required for this event. To get your complimentary ticket(s), please click here:

http://johnkerry.com/scranton

Harrisburg Rally, State Capitol Building, Third and State Streets, Harrisburg, PA. Gates open at 5:00 p.m. Tickets are required for this event. To get your complimentary ticket(s), please click here:

http://johnkerry.com/harrisburg

Because of security, no umbrellas, bags, or signs will be allowed at either rally. Please limit personal items as well. Both events will take place RAIN or SHINE
Join us at the rally in Scranton or in Harrisburg, bring your friends and family, and show that America supports the Kerry-Edwards ticket.

See you there,

Pennsylvania for Kerry-Edwards"

If you follow the link, you put in your personal information then print out a ticket. Here's my ticket:


The Lackawanna County Courthouse is a large building sitting in the middle of a normally sized city block – this one is 4.7 acres. It is the only building on that block, so it is surrounded with grass. Here's a picture: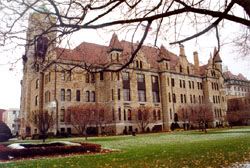 Why Scranton and Harrisburg? Philly and Pittsburgh are democrat country. Scranton is heavily democrat, but they have voted in a pub congressman (Don Sherwood) a couple of times lately. There is enough pub votes through gerrymandering to do that. Twenty minutes south in Wilkes-Barre is Kanjorski - pure dem. Regardless, Scranton and Harrisburg bring together the marginal votes necessary to swing the commonwealth. The only population center not discussed is Erie - home of Tom Ridge, pub country.

Surely there must be a limit to the number of tickets they will allow to be printed. What would happen if everyone who signed up for a ticket did not show up? Is this what is generally referred to as the machinations of the VRWC?

So, let's all get our tickets, then go to Shooky's Deli across the street and watch everyone not show up!!