Some places should be avoided. It's as if a brain cloud forms from the local atmosphere, obscuring rational thought and encouraging dysfunctional behavior.

Story, Indiana is so small it is doesn't rank an entry in the US Census. I have looked - not a township, not incorporated. In fact, Mapquest shows just a cross roads. No, actually a "T":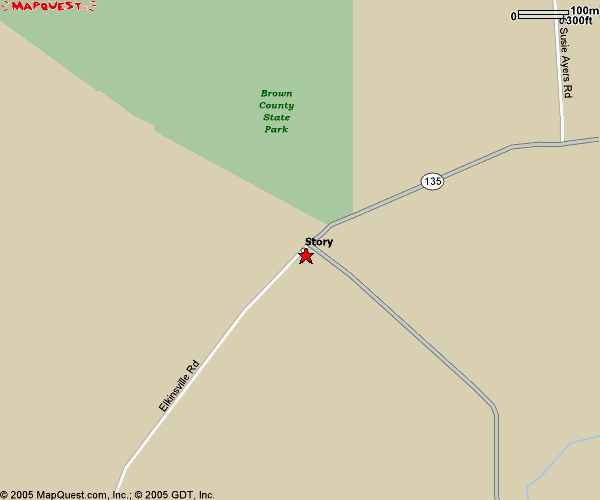 Yet they have managed to not only name a Village Idiot, but to have several in the running.

The winner: Mark Carmichael, the Stroy Inn's maintenance man, cut through a live wire while using a circular saw to replace the inn's galvanized steel roof. But he also damaged his just-purchased 1998 Dodge truck - the day after he got it - by getting it stuck atop a whiskey barrel planter outside the inn. Apparently to warm up to the task he cut the carcasses of two hogs in half with a chain saw, cooked them on bed springs, then used a pitchfork to turn the meat as it cooked. He served up the portions with a hatchet.

The runners-up: Two Story Inn regulars were nominated for knocking themselves unconscious while opening their car doors. Another was nominated for burning down his front porch after not fully extinguishing a cigarette in a full ashtray. Bartender Evan McMahon was nominated for opening an $80 bottle of Chalk Hill Chardonnay to make a $6.50 wine spritzer for a bar patron. Not to be outdone, Story Inn housekeeper Kathy Newhall earned her nomination for using French truffle oil from the kitchen, which costs $50 for a 3-ounce bottle, to quiet a squeaky toilet seat.

Idiots unite, you have a place to tell your story in Story, IN.